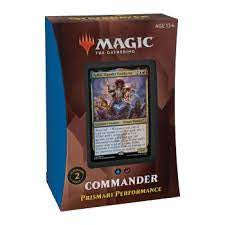 Magic The Gathering Strixhaven Commander 2021 Deck - PRISMARI PERFORMANCE
ENCORE!  ENCORE!
Choose your commander anbd overcome both friend and foe in this definitive multiplayer MagicTM format.  Team up with Zaffai for the performance of a lifetime.  As you cast bigger and bigger spells, Zaffai will reward you with bigger and bigger payoffs!
PRISMARI COLLEGE
Prismari mages see no difference between magic and art.  Their spells are spectacles of raw creativity, masterpieces of showy, over-the-top magecraft.  Any elemental force can be a Prismari muse and medium.
Includes:
Deck Box
100-card deck with 17 new cards
10 double-sided token cards
Plus:  Life WheelTM - Strategy Insert - Reference card