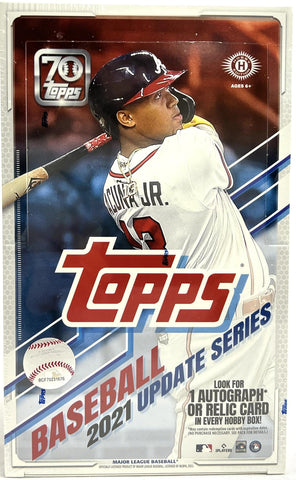 2021 Topps Update Series Baseball Hobby Box
2021 Topps Baseball Update Series PRODUCT HIGHLIGHTS:
Base Set - 330 Cards featuring traded stars, new rookie debuts, season highlights and player combos!

NEW! Foilboard Parallels: Green #'d to 499, Orange #'d to 299, Red #'d to 199

NEW! Topps Black Gold a tribute to the first modern day insert set from 1993, featuring new players on the classic design.
NEW! Topps Cards That Never Were - Find cards from the past that should have been, but never were.
Other Update Series Insert Sets

70 Years of Topps Baseball - This 70 card set continues to highlight players on base card designs from Topps' rich 70 year history. Each card will feature a different design.

Look for Autograph Parallels of select subjects #'d to 10 or less

1986 Topps Baseball Inserts - Capping off the 35th anniversary celebration of this iconic card set with new images of retired greats, rookies, and modern day stars.
Topps Platinum Players Die Cuts - Complete the set of 70 Topps greats from 70 years of baseball with the final 20 cards.

Topps Tek 70th Anniversary Cards - Acetate cards featuring elite MLB talent.

 (2)

 in EVERY JUMBO EXCLUSIVE BOX!
Sketch Cards - Each card contains unique hand drawn art of the leading MLB stars! HOBBY/JUMBO EXCLUSIVE
Update Series Commemorative Relics

NEW! 2021 MLB All Star Game Commemorative Sleeve Logo Patch Cards - 2021 ASG participants are celebrated with cards featuring the game logo patch, made specifically for these cards. Hobby and Hobby JUMBO Exclusive!

Update Series Autograph Relics

Topps Reverence Autographed Patch Cards - ON-CARD autographs and patch uniform pieces. Base is numbered to 10. Hobby/Hobby JUMBO Exclusive!
Major League Material Autographs #'d to 50 or less

Update Series Autographed Cards

Baseball Star Autographs - Current greats, legends and rookies.
Baseball Stars Dual Autographs - #'d to 5 or less
1986 Topps Baseball Autographs - ON-CARD autographs of rookies, veterans and retired players.
Cut Signatures - Featuring vintage signatures of some of the all-time greats of MLB. Numbered 1-of-1

Update Series Relic Cards

Major League Materials
Own The Name Relics - Showcasing jersey nameplate letters, numbered 1-of-1. Hobby/Hobby JUMBO Exclusive!