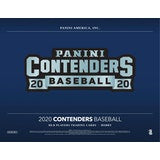 2020 Panini Contenders Baseball Hobby Box
2020 Panini Contenders Baseball Cards Box Hits:
(6) Autographed Cards

(18) 

Season Ticket Purple

(1) 

Numbered Parallel
2020 Panini Contenders Baseball Cards PRODUCT HIGHLIGHTS:
(6) Autographed Cards in Every Box!

Rookie Ticket features ON-CARD autographs from this seasons's top rookies like Bo Bichette and Yordan Alvarez across multiple parallels! Be on the look out for the short-printed A and B variations as well!
Draft Ticket - Highlights the top level talent taken in this year's draft!
Prospect Ticket - Baseball's top prospects!
Contenders Autographs - A mix of top tier prospects, current stars and retired fan-favorites!
Other Autograph Content

Rookie Round Up
ROY Contenders
AND MORE!

Whether you're a prospector, chasing the top rookie talents or craving some of the biggest names to play the game, 2020 Contenders Baseball is bound to have something for every collector!
Retro 1998 and Retro 1999 Rookie Tickets will pair this season's top rookies with a couple of timeless Contenders designs!
Insert sets like Future Stars, Potential and Up & Coming give collectors a glimpse at baseball's future superstars!