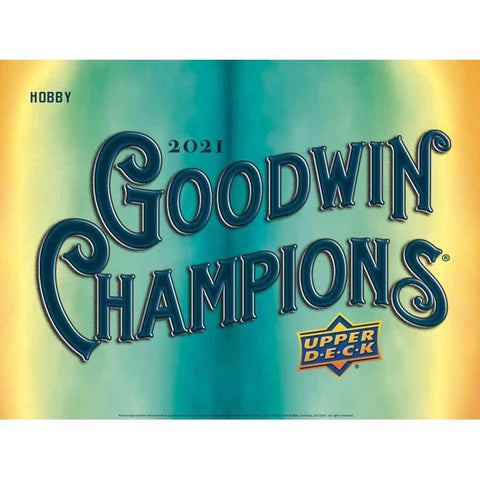 2021 Upper Deck Goodwin Champions Hobby Box
2021 Upper Deck Goodwin Champions Trading Cards Box Hits:
(2) Hits from the following: Autographs, Memorabilia, Manufacturer Patch, Lenticular, Relics or other special inserts
(6) Splash of Color SPs and/or Goudey Inserts
(6) Platinum Cards
2021 Upper Deck Goodwin Trading Cards PRODUCT HIGHLIGHTS:
NEW! Look for an all new signers, including: Sky Brown, Cori "Coco" Gauff, Sabrina Ionescu, Chloe Kim, Jonathan Kuminga, Teofimo Lopez, Naomi Osaka, Adley Rutschman, Mikaela Shiffrin and many more notable names!
Look for a variety of popular hard-signed autograph sets, including Goodwin Autographs, Goudey Autographs, Splash of Color Autographs, Goudey Sport Royalty Autographs and the two-tiered 2003-04 Retro SPA Rookie Authentics Autographs!
NEW! Feathered Creatures is a five-tiered aggregation of embroidered manufactured patch cards commemorating birds (domestic and wild) from around the world. Their beauty, artistry and rarity will make this unique 100-card set a welcome addition to your collection.
here is no shortage ofspectacular relic sets in this year's edition, including the NEW! Centuries of Progress - World's Fair Relics, Impactful Legacies Vintage Stamps and Museum Collection - Lady Luck Relics and Legendary Ship Relics sets, as well as updates to the World Traveler Map Relics, Museum Collection - Space Relics, Entomology Oversized Relics and Historic United States Currency Relics sets
The Legendary Ship Relics cards commemorate the famed USS Constitution and are #'d to just 25! Also, search for an ultra-rare USS Constitution Oversized Relic redemption card!
Back by Popular Demand! Exquisite Collection Signature Kicks cards are back! Each card contains premium swatches from the signature brand shoes of some of the greatest athletes, past & present, on the planet! EVERY autograph is hard-signed!!
Look for more great memorabilia cards, including Goodwin Memorabilia (regular & dual swatch), Goodwin Splash of Color Memorabilia, Goudey Sport Royalty Memorabilia (regular & dual swatch), and the #'d Premium parallel of each set!
The 2021 Exquisite Collection cards feature a 

Brand NEW 

Exquisite Collection design and checklist full of legends and top prospects from a variety of sports, including UD Spokespersons. Keep an eye out for Gold Spectrum (#'d to 10) and Black (#'d 1-of-1) parallels of the Base, Base Rookies, Rookie Auto and Rookie Auto Patch subsets.
NEW! 2021 Goodwin Champions boasts a new set of Goodwin Playing Cards featuring original art and vibrant technology.
NEW! For the first time in the product's long history, there will be Platinum Variants of the Base Set and Goudey cards. Each variant card is printed using chromium technology! Look for a deep bench of gleaming parallels, including the Orange Prism, Pink Traxx, Cosmic, Purple Pulsar, Green Wave and Golden Treasures, each card #'d to 99 or less!
Bounty Mission - Participate in Goodwin's Bounty Mission by collecting the Splash of Color Bounty Lenticular Variant set and earn unbelievable achievement cards! For more information, and to participate, visit UpperDeckBounty.com.
The 150-card Base Set features a fresh design and some of the greatest athletes in the world. The set features 100 regular cards (1-100) and 50 Splash of Color SP cards (101-150).