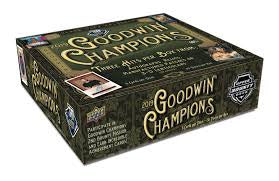 2019 Upper Deck Goodwin Champions Box
2019 Upper Deck Goodwin Champion Trading Cards Box Hits:
(3) "HITS" from the following: Hard-Signed Autographs, Relics, Manufactured Patches, 3D Lenticular Cards

(10)

 Splash Color High Series SPs or Goudey Cards

(7) 

Mini Cards
2019 Upper Deck Goodwin Champion Trading Cards CASE Hits:
Each 8-box inner will deliver (1) Case Hit from the following inserts: Museum Collection Aviation relics, Grimms' Fairy Tales Illustration relics & Sketch booklets, Goodwin Cut Signatures, Goodwin Masterpieces Art of the Ages, Sports Royalty Autos, JFK Legacy Relics, Signature Kicks, Splash of Color Autographs
2019 Upper Deck Goodwin Champion Trading Cards PRODUCT HIGHLIGHTS:
NEW! Look for an always-intriguing new selection of signers, slated to include Luka Doncic, DeAndre Ayton, Jennifer Love Hewitt, Victor Robles, 311 (the entire band) and many more notable names!
NEW! JFK Presidential Legacy Relics featuring key moments from one of the greatest leaders in US history. Each card in the set will include a memorabilia artifact piece owned by John F. Kennedy!

Find the massive 1-of-1 oversized relic cut signature card!

NEW! Civic Symbols embroidered manufactured patch cards commemorating the United States Flags of each state across the country. These will be broken into five tiers, all with differing tiers of scarcity.
NEW! Grimms' Fairy Tales takes center stage in 2019 with Goodwin Single and Dual panel sketch cards! Look for single panel sketch cards and RARE dual panel sketch cards featuring the beloved characters and stories from this timeless collection!
Genuine Heroes Signatures featuring a new checklist including Anthony Sadler (Paris train attack hero), Donald E. Ballard (Vietnam medal of honor), Mandy Manner (teacher of the year).
Participate in Goodwin's 2nd Bounty Mission by collecting the Splash of Color Bounty Lenticular Variant set and earn unbelievable achievement cards!
Back by Popular Demand! Exquisite Collection Signature Kicks cards make their long awaited return.

Each card utilizes premium swatches from the signature brand shoes of each featured athlete.
Look for dynamic leather, lace, patch, rubber and logo swatches.
Featuring an array of the greatest athletes of all-time alongside the next generation of iconic talent.
ALL autographs are 100% 

ON-CARD!.

Look for the return of the eye-catching Splash of Color insert set, including Autograph variations, 3D Lenticular variants and Bounty cards.
Museum Collection Aviation Relics return cards featuring swatches from historic memorabilia items

Look for RARE over-sized Museum Collection Aviation relic redemption cards!

Sports Royalty Autographs Return! Featuring dual 

ON-CARD

 autographs from the finest athletes in the world.
Goodwin Masterpieces Art of the Ages Returns! Featuring 1-of-1 painted art cards of some of the world's most famous works of art.
Release date 6/26/2019.