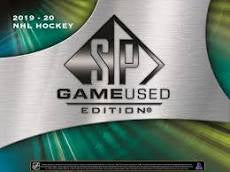 2019-20 Upper Deck SP Game Used Hockey Box
2019-20 Upper Deck SP Game Used NHL Hockey Cards Box Hits:
(1) GUARANTEED Premium Autograph, Premium Memorabilia or Autograph/Memorabilia Combo Card
(3) Additional Autograph, Memorabilia or Autograph/Memorabilia Combo Cards
2019-20 Upper Deck SP Game Used NHL Hockey Cards PRODUCT HIGHLIGHTS:
SP Game Used Hockey is back with limited edition memorabilia!
Find a multitude of cards featuring jerseys, patches, pucks, sticks, gloves and net cord from the marquee NHL events: Global Series, Winter Classic, All-Star Game & Skills Competition and the Stanley Cup Finals!!
100 Base Cards & 100 Authentic Rookies, featuring members from the 2019-20 Rookie class, serial #'d to the featured player's jersey number!
Look for a new wave of Draft Day Marks letterman cards including veterans #'d 10 and 2019-20 rookies #'d to 35 per letter!
Chase Supreme Patches, Supreme Gloves, Sticks & Pads featuring a selection of the game's top stars with massive swatches of super-premium, game-used material!
NEW! Look for Showcase Standouts with Autograph parallels! This NEW insert features one-of-a-kind jersey & patch cards. The material comes from the jersey worn at the annual NHL Rookie Showcase game.

NEW! All-Star Weekend Inserts. Featuring banner and jersey swatches from All-Star Weekend. Be on the lookout for all-patch parallels numbered to just 5!
Game Used Pucks - This 31-card set features players and pucks that touched the ice at one of the six marquee NHL events, including the annual Winter Classic.
Net Cord - Grab history with this compelling set of cards boasting actual net cord from four different NHL events including Game 7 of the thrilling 2019 Stanley Cup Final!
Frameworks - A 30-card set featuring a unique display of large jersey swatches from today's top stars and yesterday's greats!
Tonight's Lineup - Each card is a true one-of-a-kind featuring a portion of an official NHL lineup card. Grab a unique piece of history!
Banner Year - The popular Banner Year insert boasts swatches that come from the actual banners hung by the NHL at multiple events. Be on the lookout for an autograph parallel of each event!
Release date 2/26/2020.