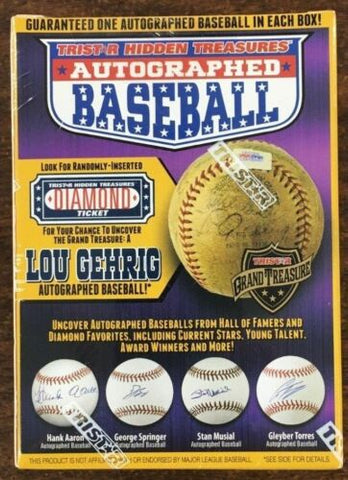 2018 Tristar Hidden Treasures Autographed Baseball Box
Uncover autographed baseballs from Hall of Famers and Diamond Favorites, including Current Stars, Young Talent, Award Winners and more!
Find Vintagem Inscribed, Commemorative-issued baseballs and more!
Look for randomly inserted Diamond Tickets for your chance to uncover the Grand Treasure, an autographed Lou Gehrig baseball!
Also look for names such as:
Hank Aaron
Mickey Mantle
Stan Musial
Gleyber Torres
Shohei Ohtani
Mariano Rivera
Justin Verlander
Ken Griffey Jr.
Jose Altuve
and more!
12-Box Case contents: 3 Hall of Famers and 9 Diamond Favorites