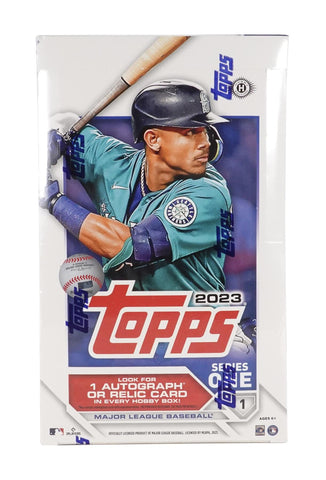 2023 Topps Series 1 Baseball Hobby Box
Configuration: 24 Packs Per Box, 14 Cards Per Pack
Each Hobby Box delivers One Autograph or Relic Card and One EXCLUSIVE Silver Pack!
Look for Rookie Autogrpahs of Adley Rutschman, Corbin Carroll, Gunnar Henderson, Riley Greene, and Francisco Alvarez!
Collect a 330-Card Base Set!
Celebrate the unofficial beginning of the 2023 Baseball season when Topps Baseball Series 1 hits shelves in February 2023!
Collectors will find the League's current stars, greats from the past, and rising rookies featured on base cards, inserts, and autograph and relic cards!
Look for the Golden Mirror Image Variation Short Prints!
Collect Autograph Relics, including Topps Reverence Autograph Patch Cards, Major League Material Autographs, and Postseason Performance Autograph Relics!
Keep an eye out for Baseball Stars Dual Autographs and 1988 Topps Baseball Autographs!
Find Rookie Cards of Adley Rutschman!