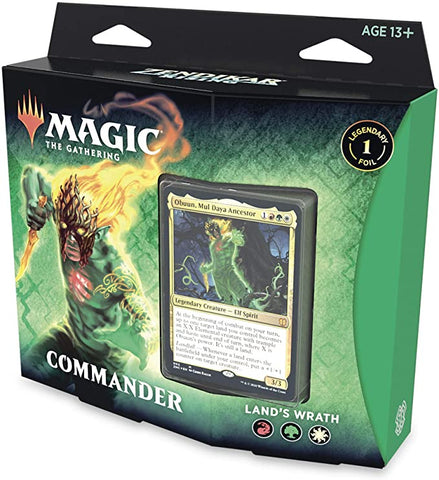 Magic The Gathering Zendikar Rising Commander Deck Land's Wrath
STAKE YOUR CLAIM
Choose your commander and overcome both friend and foe in this definitive multiplayer Magic formate.  Join forces with Obuun and watch the land itself rise to defend your cause.  The more lands you play, the more powerful you forces become.
OBUUN, MUL DAYS ANCESTOR
An ancient elf spirit of the Mul Daya, Obuun is more influential in death than he ever was in life.  A leader among his people, he would do anything to protect them - backed up by a mastery of the forces of nature.
Contains:
100- card deck with 3 new cards
Deck box
10 double-sided token cards
Life Wheel
Strategy Insert
Reference card