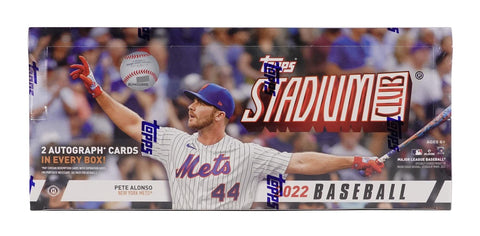 2022 Topps Stadium Club Baseball Hobby Box
16 Packs Per Box, 8 Cards Per Pack
Each Box contains Two Autograph Cards, One Base Card Chrome Variation, and One Triumvirates Insert!
Topps Stadium Club once again returns with the most iconic imagery from MLB to be found on trading cards. Collectors can find low-numbered base card parallels, on-card autographs, exciting insert cards and more!
MLB legends, current superstars, and the most sought-after rookie cards are featured in 2022 Topps Stadium Club Baseball!