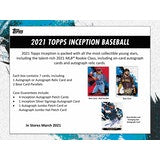 2021 Topps Inception Baseball Hobby - 16 Box Case
Configurations:
16 boxes/1pack/7  cards
Each Box contains One Autograph or Relic Card!
Every CASE guarantees:
- 4 Inception Autograph Patch Cards
- 1 Inception Silver Signings Autograph Card
- 1 Autograph Jumbo Patch Card or Autograph Jumbo Hat Patch Card
2021 Topps Inception is packed with all the most collectible young stars, including the talent-rich 2021 MLB Rookie Class, including on-card autograph cards and autograph relic cards.
Each box contains 7 cards, including 1 Autograph or Autograph Relic Card and 2 Base Card Parallels!