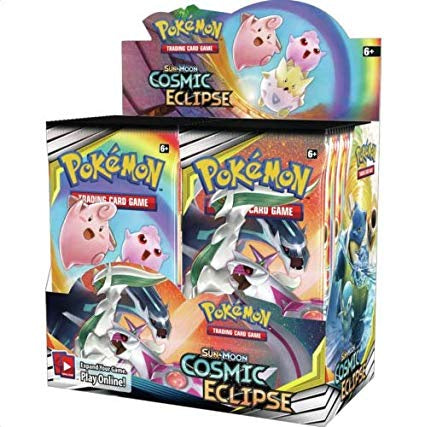 2019 Pokemon Sun and Moon Cosmic Eclipse Booster Box
A Supreme Connection of Stars and Pokémon!

At the apex of the Sun & Moon Series, the Pokémon TCG: Sun & Moon-Cosmic Eclipse expansion boosts the connection Pokémon and Trainers, and it launches TAG TEAM combinations to new levels!  Jump into battle with Charizard & Braixen-GX, along with the triple TAG TEAM of Arceus & Dialga & Palkia-GX, plus many more!  Feel the stellar power of Pokémon with the Sun & Moon - Cosmic Eclipse expansion! 
• Over 230 cards 
• 9 brand-new TAG TEAM Pokémon-GX 
• 7 more Pokémon-GX 
• The first appearance of TAG TEAM Support cards
• More than 20 Trainer cards and a new Special Energy card