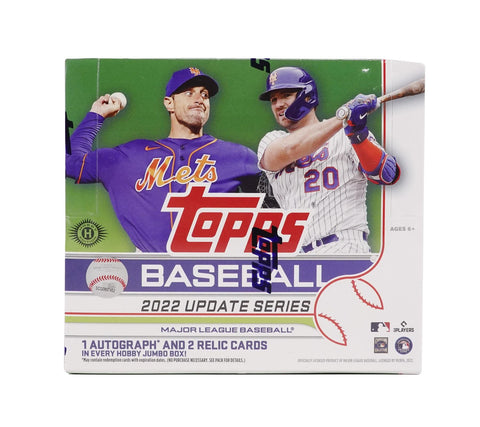 2022 Topps Update Series Baseball Jumbo Box
Configuration: 10 Packs / 46 Cards per pack
Each Box contains One Autograph, Two Relics, and Two EXCLUSIVE Silver Packs!
One Jumbo EXCLUSIVE Box Loader in every box!
Fans of the game can complete their Flagship collection with 2022 Topps Baseball Update Series, arriving on store shelves in October. This collection will feature rookies debuting in 2022, MLB All-Star Game, and Home Run Derby participants, along with other modern-day and legendary stars of America's Pastime.
Collect all 330 Update Series Base Cards. Look for a variety of Parallels, including Rainbow Foil, Vintage Stock, and Memorial Day Camo just to name a few!
Find Topps Black Gold and Generation Now Inserts!
Look for Autographs, Relics, and Sketch Cards!